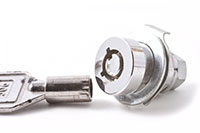 Let's start with obvious observations. People forget to lock their doors. So, make sure both the front and back door locks well. Make sure all windows have good security bolts, which secure well in the strike plates. Don't forget to invest in good quality strike plates of solid steel and get long screws. Investing in excellent security door locks is absolutely necessary but you must never forget to check and replace the door or window frames if needed. Warped frames and hollow doors will be an easy target for intruders, who will just force their entry in your house by detaching the window frame and kicking down the door.
Invest in burglar deterrents and good locks
Replace the keys if worn, have the locks replaced but also invest in supplementary systems. These days, there are many thief deterrents on the market. Invest in them depending on the needs of your house. If you have ground floor windows, make sure the alarm system is connected to all entry points. Also install burglar alarm bars in windows. Modern wall panel alarm systems will warn you about the attempt of an intruder to break into your house. At the same time, they notify the police and they can warn for water and fire damage as well.
There are watchdog systems, fake TV burglar deterrents, surveillance cameras that can report an incident around the house through your computer, motion light detectors or dummy cameras. Don't forget that perpetrators intend to slip in undetected and come out quietly. These systems will definitely scare them off and will search for less protected properties. Of course, the basis of your home security is the right choice of bolts. Good lock installation will ensure that the entrances of the house will resist force.
So, pay attention to the condition of your locks and proceed with lock replacement if you suspect that they are getting old and vulnerable. Taking care of such matters before they become problems is vital and anything but a luxury these days. So, invest in your security in order to have peace of mind and drive perpetrators to look elsewhere for easy targets.